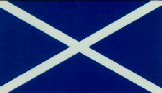 Highlights of Scotland
Photo index
Since I have put a lot of Scotland photos on my Web pages, a list of them seems useful. They are sorted by subject, so that some can appear more than once in this list; there are now 117 different photos. The links lead to the page on which the photo is shown (each of these pages has 3 photos and is about 60 kb).

  ===> Alternatively, use the:       clickable map (35kb)

You can follow some kind of Picture Tour, which sort of starts at this page, using links at the bottom of each photo page.
Animals

Churches, Abbeys

Cliffs

Gardens

Glens and rivers (see also waterfalls below)

Lewis and Harris

Lochs and other landscapes

Pre-historic sites

The sky and the Sun

Waterfalls

Varia
Note:

All photos on this site are taken by me personally
and therefore I own the copyright (© 1995-1998).
Please do not use them without asking me first!
In any case, commercial use is not allowed.
---
More about Scottish castles

A castle page received the
StudyWeb Excellence Award
on 11 September 1999; see
their  "Architecture - Buildings
& Projects - Castles" section.
[Note: StudyWeb seems to have vanished.]


  part of:   

Rampant Scotland Directory - Castles

---
Where did I take the photos?

small map (17kb) of Scotland (without the islands north of Scotland: Orkney, Shetland).
At every photo page a map like this one shows with red squares where the photos on that page were taken.

This same map is the basis of the clickable map, where clicking on red squares leads to a photo page.

The original of the map is a part of a full map (46kb) of Britain (again without the islands north of Scotland: Orkney, Shetland), which I retreived from a Web page of the University of Dundee. The map shows only the major cities and roads in the UK; a map showing more places and roads in the UK is available through the PCL Map Collection.
---


This pages has received a
StudySphere Award as one of the best
educational resources on the Web.
[20 June 2006]
Go (back) to:
Main Scotland page

Jos van Geffen -- Home  |  Site Map  |  Contact Me
last modified: 26 April 2008