Highlights of Scotland
Some more diverse pictures
Here follow some more pictures, scanned for some reason or other.
Click on the pictures for a larger version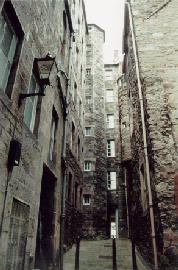 Fisher Close, one of the many narrow streets in the Old Town of Edinburgh; this one connects Lawnmarket (The Royal Mile) with the charming Victoria Street.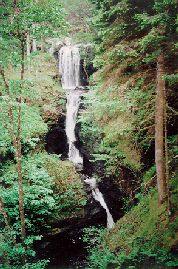 Victoria Falls, near Loch Maree. Queen Victoria visited this waterfal in 1877, hence its name. Water falls here over a total height of 20-25 metres.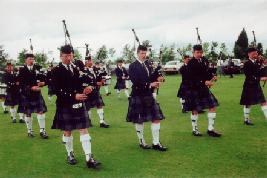 Piper band at the Highland Games in Stirling, 1997.
---

This map (17 kb) shows a red square where these three photos were taken; dates: 27 October 1996, 30 May and 13 July 1997, respectively.
Go (back) to: Main Scotland page # Stay in Dundee page # Scotland photo index
==   Previous  |  Picture Tour  |  Next   ==

Jos van Geffen -- Home  |  Site Map  |  Contact Me
created: 5 February 2000
last modified: 6 March 2000