Highlights of Scotland
Leuchars & Earlshall Castle
Click on the pictures for a larger version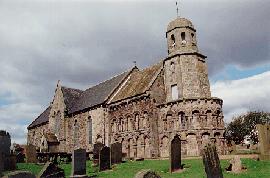 Leuchars Parish Church is an ancient Norman cancel and apse, richly ornamented, with a 17th century bell tower and additions of the Victorian age. The church, dedicated to St. Athernase, was consecrated in 1244 and stands on a small hill in the middle of the village.
(The church tower is in real not tilted: that is an effect of the wide angle lens I used.)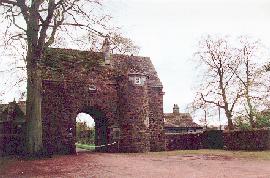 On the outskirts of Leuchars stands this gate house of Earlshall Castle. A sign says it is private property, but that did not stop me from having a somewhat closer look:

This is as far as I dared to go; there was no-one in sight to ask permission for an even closer look.
Earlshall Castle, now privately owned, is the home of the Baron and Baroness of Earlshall, whose ancestor, Sir William Bruce, built the castle in 1546.
Until 1995 or so the castle and gardens were open to the public, now it is closed. Which is most unfortunate, since as I understand from a photo book of Scotland, there are some wonderfully decorated walls and ceilings in the castle (a typically Scottish phenomenon, between 1570 and 1650). That book shows a photo of a part of such a painting, with this text:
A nice wyf and a back doore
Oft maketh a rich man poore
A tourist guide from Scotland from 1993, when it was still open to the public (with a tearoom and a giftshop), says this about the castle:
Earlshall is a fine example of a 16th century Scottish castle, very strongly built with 5-feet-thick walls, battlements and gun loops. Richly fitted main rooms, including the long gallery with its magnificent painted ceiling and wealth of old timber pannelling. Still a family home with permanent display of Scottish weapons. Yew topiary gardens, nature trail, gardens. Earlshall is the home of the Baron and Baroness of Earlshall.

===> Some notes regarding the title Baron and Baroness of Earlshall
Earlshall Castle on sale in 2016
As the link right above describes, Earlshall Castle was bought by the Dutch entrepreneur Paul Veenhuijzen around 1999. Early 2016 the castle went up for sale again, as can be seen on this web page Savills plc. That web page gives a description of the property, with a floor plan, and has some 15 really nice pictures.
[Thanks to Jaap Smolenaars for pointing me to this.]



---

This map (17 kb) shows a red square where these three photos were taken; dates: 2 May 1998
Go (back) to: Main Scotland page # Stay in Dundee page # Scotland photo index
== Previous | Picture Tour | Next ==

Jos van Geffen -- Home | Site Map | Contact Me
last modified: 11 March 2016