Highlights of Scotland
Glen Shee and Glen Clunie
We made a trip of 237 km through the mountains north of Dundee, despite the rain and cold wind of that day.
Route:
Dundee -- Blairgowrie -- Bridge-of-Cally -- through Glen Shee and Glen Clunie -- Breamar Castle -- Balmoral Castle -- along B976 to Strachan -- B974 south to Fettercairn -- Montrose -- Arbroath -- Dundee
Three other photos from this trip are on the page entitled Rivers.

Click on the pictures for a larger version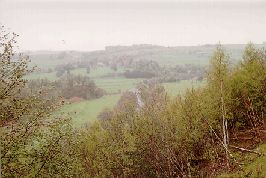 South of Bridge-of-Cally towards the east.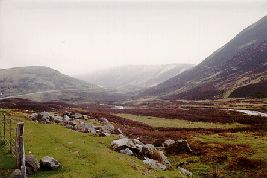 In Glen Shee, just before Devil's Elbow, towards the east.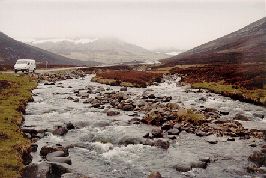 Somewhat further on, where it is called Glen Clunie, towards the south, at an altitude of about 600 m. On the left our rented van. Left of the centre the mountain Glas Maol (1068 m) in the rain clouds and with snow.

---

This map (17 kb) shows with a red rectangle where these three photos were taken; date: 28 May 1996.
Go (back) to: Main Scotland page # Stay in Dundee page # Scotland photo index
==   Previous  |  Picture Tour  |  Next   ==

Jos van Geffen -- Home  |  Site Map  |  Contact Me
last modified: 6 March 2000