Highlights of Scotland
More Scottish castles: part 1
This is one of three pages with more Scottish castles; see also part 2 and part 3
See the Scotland photo index for a list of the castle pictures on this site.

Click on the pictures for a larger version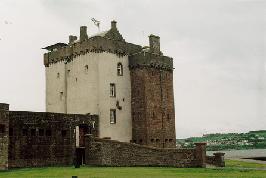 Broughty Castle, in Broughty Ferry, suburb at the east of Dundee. The castle was built in the 15th century to protect the Tay estuary. Now a museum displaying local history, geology and wildlife.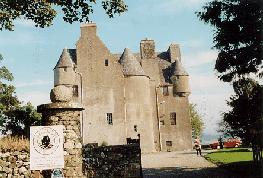 Barcaldine Castle, near Benderloch (Argyll), north of Oban, is also known as the Black Castle. It was built by Sir Duncan Campbell, 7th Knight of Glenorchy (Campbells of Breadalbane), a chief of geat power and character and known as Black Duncan, between 1591 and 1601. The name comes from tha Gaelic 'Barr a challtuin', meaning hazel knoll.
Roderick Campbell, younger of Barcaldine, now lives in the castle with his wife Caroline and their two daughters, and they have opened the castle for tourists in 1996; two rooms are available for Bed & Breakfast.

Balhousie Castle, in Perth, is originally the house of the Earls of Kinnoull; it was built in the 16th century. The castle now houses the museum of the Black Watch and displays the history of this famous regiment from 1740 to the present.
---

This map (17 kb) shows with numbered red squares where these three photos were taken; dates: 1 June, 17 and 18 September 1996.

This castle page received the
StudyWeb Excellence Award
on 11 September 1999; see
their  "Architecture - Buildings
& Projects - Castles" section.

Go (back) to: Main Scotland page # Stay in Dundee page # Scotland photo index
==   Previous  |  Picture Tour  |  Next   ==

Jos van Geffen -- Home  |  Site Map  |  Contact Me
last modified: 9 May 2001