Highlights of Scotland
Glen Coe -- part 1
During a short holiday in September 1996 I made a trip from Dundee westward with my parents. From Dundee we went via Perth, Crieff and Crianlarich Tyndrum. There we took the A82 northward. passing through Rannoch Moor. Then one enters Glen Coe, a beautiful Glen linked to a cruel event in Scottish history; below you find three photos taken there.
We continued along the A82 to Fort William and into Glen Nevis.

Click on the pictures for a larger version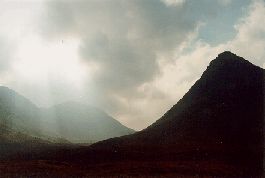 Glen Etive leads southward between Meall à Bhuiridh (1108 m) on the left and Buachaille Etive Mór (the Great Shepherd of Etive; 1022 m) on the right.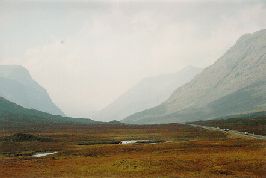 Glen Coe; the A82 can be seen on the right.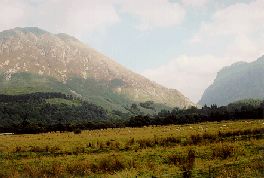 After passing the village Glencoe, the A82 turns northward and one has this view of the 'entrace' to Glen Coe, with the mountain ridge Aonach Eagach (967 m) on the left and a part of Bidean nam Bian (1141 m) on the right.
---

This map (17 kb) shows with a red square where these three photos were taken; dates: 15 September 1996.
Go (back) to: Main Scotland page # Stay in Dundee page # Scotland photo index
==   Previous  |  Picture Tour  |  Next   ==

Jos van Geffen -- Home  |  Site Map  |  Contact Me
last modified: 11 June 2002