Highlights of Scotland
Rosslyn Chapel
In the village Roslin, some 10 km south of Edinburgh, you can visit the wonderful, richly decorated Rosslyn Chapel -- it is worth taking a detour for!!
From The Rough Guide -- Scotland (1996 edition):
Only the choir, Lady Chapel and part of the transepts wre built of what was intended to be a huge collegiate church dedicated to St. Matthew: construction halted soon after the founder's death in 1484, and the vestry added to the facade nearly 400 years later is the sole subsequent addition.
The outside of the chapel bristels with pinacles, gargoyles, flying buttresses and canopies, while inside the foliage carving is particularly outstanding, with botanically accurate depictions of over a dozen different leaves and plants. Among them are cacti and Indian corn, providing fairly convincing evidence that the founder's grandfather, the daring sea adventurer Prince Henry of Orkney, did indeed, as legend has it, set foot in the New World a century before Columbus. The rich and subtle figurative sculptures have given Rosslyn the nickname of "a Bible in stone", though they're more allegorical than literal, with portrayals of the Dance of Death, the Seven Acts of Mercy and the Seven Deadly Sins.
===> Rosslyn Chapel Web site

Click on the pictures for a larger version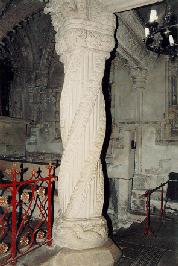 The Apprentice Pillar -- about 2.5 m high.
From The Rough Guide -- Scotland (1996 edition):
The greatest and most original carving of all is the extraordinary knotted Apprentice Pillar at the southeastern corner of the Lady Chapel. According to local legend, the pillar was made by an apprentice during the absence of the master mason, who killed him in a fit of jealousy on seeing the finished work. A tiny head of a man with a slashed forehead, set at the apex of the ceiling at the far northwestern corner of the building, is popularly supposed to represent the apprentice, his murderer the corresponding head at the opposite site. The entwined dragosns at the foot are symbols of Satan, and were probably inspired by Norse mythology.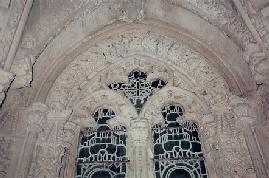 Above one of the windows in the Lady Chapel.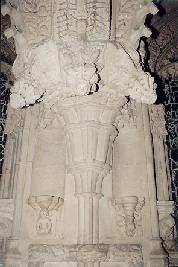 Just left of the alter of the Blessed Virgin, with at the right of the pillar a particularly important carving: Lucifer, the fallen angel, bound and upside down
---

This map (17 kb) shows a red square where these three photos were taken; dates: 26 Nov. 1997
Go (back) to: Main Scotland page # Stay in Dundee page # Scotland photo index
==   Previous  |  Picture Tour  |  Next   ==

Jos van Geffen -- Home  |  Site Map  |  Contact Me
last modified: 6 March 2000