Highlights of Scotland
Loch Awe and Kilchurn Castle
During a short holiday in September 1996 I made a trip from Dundee westward with my parents. From Dundee we went via Perth, Crieff and Crianlarich Tyndrum. There we took the A82 northward, passing through Rannoch Moor and into Glen Coe. We continued along the A82 to Fort William and into Glen Nevis where we made a walk along the road in Glen Nevis. After spending the night in Fort William, we returned the next day for a walk at the end of Glen Nevis. We then returned along the A82 for a walk in Glen Coe At the end of the afternoon we went westward, and then along the west coast (the A828) southward. We spent the night in Benderloch and the next day we followed the A85 eastward again, passing Loch Awe and Kilchurn Castle, which are shown below.
Then we followed the A85 to Tyndrum and we went back to Dundee again via Crianlarich, Killin, Aberfeldy, Dunkeld and Blairgowrie.

Click on the pictures for a larger version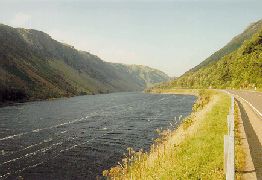 The tip of Loch Awe at the end of the Pass of Brander. In the back of the picture you see the beginning of the river Awe, which passes through a hydroelectric power plant and then flows to Loch Etive, at the other end of the Pass of Brander. [With thanks to Karen Gibbon (Karerick@email.msn.com) for correcting me on the details here.]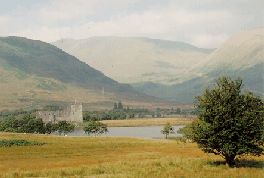 Kilchurn Castle as seen from the road to Inverarray (the A819); in the distance lies Ben Cruachan (1128 m).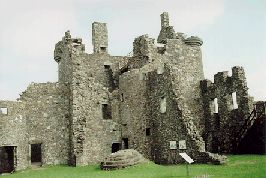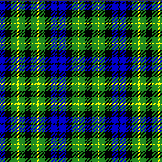 The keep of Kilchurn Castle (photo) was built in 1440 Sir Colin Campbell of Glenorchy, founder of the Breadalbane family; their tartan is shown on the right.
Kilchurn Castle was extended in later centuries, and has a notable history. In 1740 it was left by the owners, and only for a short period in 1745-46 used by Hanoverian troops. After that, the castle was left to the elements of nature.
===> A bit more info about Kilchurn Castle.
---

This map (17 kb) shows with a red square where these three photos were taken; dates: 17 September 1996.
The tartan shown is taken from the program XTartan (version 2.2). You can find info, examples and the source at the XTartan home page.
Go (back) to: Main Scotland page # Stay in Dundee page # Scotland photo index
==   Previous  |  Picture Tour  |  Next   ==

Jos van Geffen -- Home  |  Site Map  |  Contact Me
last modified: 23 August 2000