Highlights of Scotland
The river Tay at Dundee
Click on the pictures for a larger version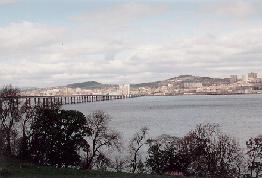 View from Newport-on-Tay across the river Tay to Dundee, with its two long extinct volcanos: Balgay Hill (left; with trees and the Mills Observatory, an astronomical observatory for amateurs) and Dundee Law (right, with a war memorial and a radio antenna). The Tay Road Bridge, opened in 1966, is about 2.5 km long and rests on 42 concrete pillars.
Somewhat west (left) of this road bridge, there is a rail bridge, built in 1883-87, replacing a rail bridge destroyed in a storm in 1879 after being in use for only 2 years.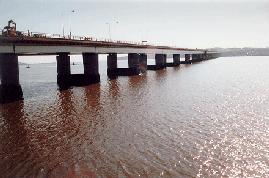 The road bridge seen from the Dundee side.

Looking down the Tay towards the North Sea. The two little "islands" are Fowler Rock (left) and Beacon Rock (right). At the centre, on the horizon, bearly visible, is Broughty Castle.
---

This map (17 kb) shows a red square where these three photos were taken; dates: 2 May and 18 april (twice) 1998
Go (back) to: Main Scotland page # Stay in Dundee page # Scotland photo index
==   Previous  |  Picture Tour  |  Next   ==

Jos van Geffen -- Home  |  Site Map  |  Contact Me
last modified: 6 March 2000