Highlights of Scotland
Rannoch Moor
During a short holiday in September 1996 I made a trip from Dundee westward with my parents. From Dundee we went via Perth, Crieff and Crianlarich Tyndrum. There we took the A82 northward. The highest point of the road is at 348 meters, and there is Rannoch Moor, a desolate, forbidding yet beautiful moorland. Below you find three pictures taken near Loch Bà.
Next we entered Glen Coe.

Click on the pictures for a larger version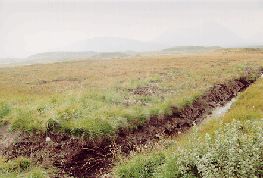 Photo taken southward,
standing on the road side.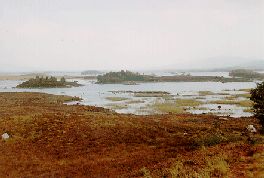 Loch Bà seen from a little hill.

From that little hill southwestward
with Black Mount (491 m) in the distance
and Loch na h-Achlaise in the front.
---

This map (17 kb) shows with a red square where these three photos were taken; dates: 15 September 1996.
Go (back) to: Main Scotland page # Stay in Dundee page # Scotland photo index
==   Previous  |  Picture Tour  |  Next   ==

Jos van Geffen -- Home  |  Site Map  |  Contact Me
last modified: 6 March 2000