Highlights of Scotland
Some more pre-historic sites
Here follow some more pictures of pre-historic sites, scanned for some reason or other.
===> page with some stone circle, west of Aberdeen
Click on the pictures for a larger version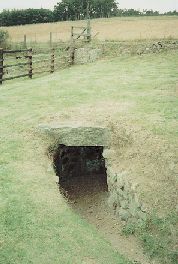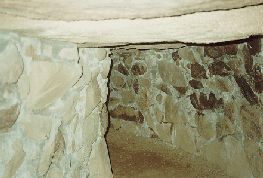 Culsh Earth House: a well-preserved earth house (to be found north-east of Ballatar) of Iron Age date with its roofing slabs intact. On the left the entance, on the right looking back from a point near the end of the passage. The passage make a turn of about 90 degrees: standing at the end it is completely dark!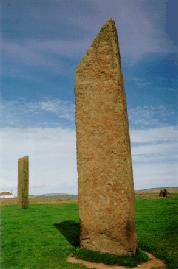 Standing Stones of Stenness on Orkney.
For info on Orkney's pre-historic site, see Sigurd Towrie's Orkney
---

This map (17 kb) shows a red square where these three photos were taken; dates: 28 September 1996 (1 and 2) and 31 August 1997.
Go (back) to: Main Scotland page # Stay in Dundee page # Scotland photo index
==   Previous  |  Picture Tour  |  Next   ==

Jos van Geffen -- Home  |  Site Map  |  Contact Me
created: 5 February 2000
last modified: 6 March 2000