Highlights of Scotland
More Scottish castles: part 2
This is one of three pages with more Scottish castles; see also part 1 and part 3
See the Scotland photo index for a list of the castle pictures on this site.

Click on the pictures for a larger version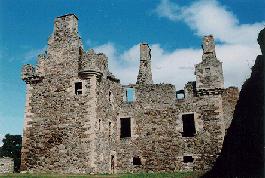 Glenbuchat Castle, in Grampian (west of Alford). This Z-plan tower house of this castle was build around 1590l it was abandoned in the 1840s. The ruine is now being restored by Historic Scotland and partly open to the public.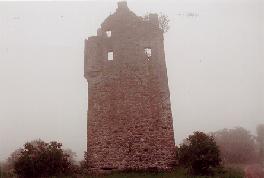 Invermark Castle, the ruin of a castle at the end of the road in Glen Esk, the start of a nice walk in Glen Esk. There does not seem to be an entrance to the castle at the first few levels.
It was quite misty that day, and the photo was taken just before an enormous rain shower made us soaking wet and drove us out of Glen Esk.
Invermark Castle was once owned by Sir David Lindsay of Edzell Castle (see below), who in the late 16th century brought many foreigners to the glen to mine in the castle's vicinity, for gold, silver, copper, tin, lead and iron.
-- Thanks to Jennie Martin for this info; a web page by her has sadly disappeared.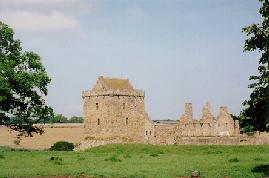 also available: close-up from the left
Balgonie Castle, near Markinch, Fife (east of Glenrothes). The tower house of the castle at the shore of the river Leven was built in the 14th century and until 1702 the castle was extended and improved. In the 17th century it was the home of Sir Alexander Leslie, the 1st Earl of Leven.
The castle is now inhabited by the Laird and Lady of Balgonie (they live in the tower house), who bought the castle around 1986 and are restoring it themselves. The Laird himself gives a personal tour around the castle when you knock at the door. The castle is closed for tourists when the 14th century chapel, only lit by candlelight, is used for a wedding.
    ===> Balgonie Castle Web Site
    ===> Official photographer to Balgonie Castle
---

This map (17 kb) shows with numbered red squares where these three photos were taken; dates: 26 July and 10 August 1996, 16 August 1997.
Edzell Castle was built in the sixteenth century and its formal walled garden was layed out in 1604 by Sir David Lindsay. The garden is the product of Renaissance ideas. The sculptured wall panels portray the Planetary Dieties, the Liberal Arts, and the Cardinal Virtues. The hedges spell out the Lindsay motto, "Dum spiro spero" (while I breathe I hope).

Links:

- photos from a Scotland seminar at Beloit College

and many more ...

This castle page received the
StudyWeb Excellence Award
on 11 September 1999; see
their  "Architecture - Buildings
& Projects - Castles" section.
That page seems to have gone ...

Go (back) to: Main Scotland page # Stay in Dundee page # Scotland photo index
==   Previous  |  Picture Tour  |  Next   ==

Jos van Geffen -- Home  |  Site Map  |  Contact Me
last modified: 1 December 2004