Highlights of Scotland
Castles
On our trips we visited several castles; three of these are shown here.

Click on the pictures for a larger version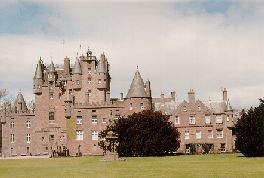 Glamis Castle, near Glamis, is the historical residence of the Earls of Strathmore and Kinghorne, the Bowes-Lyon family.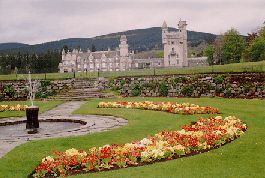 Balmoral Castle, near Crathie. This castle is owned by the British Queen and is the most important summer residence of the Royal family. The Balmoral tartan is shown on the right.

It was here that on 29 October 1889 Queen Victoria passed under the Great Seal of the United Kingdom a Charter of Incorporation concerning the 'British South Africa Company'. You can find it as Appendix C on Ronald J. Wilson's Web site about the The Northward Trek (1909) from Stanley Portal Hyatt.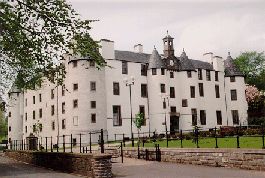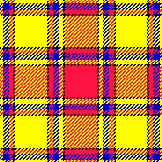 Dudhope Castle, in Dundee. It is the 15th century residence of the Scrymgeour clan, the hereditary Constables (in Dutch: de erfelijke slotvoogden) of Dundee; their tartan is shown on the right.

---

This map (17 kb) shows with numbered red squares where these three photos were taken; dates: 25, 28 and 29 May 1996.
The tartans shown are taken from the program XTartan (version 2.2). You can find info, examples and the source at the XTartan home page. The program does not give a tartan I can link to Glamis Castle.
Go (back) to: Main Scotland page # Stay in Dundee page # Scotland photo index
==   Previous  |  Picture Tour  |  Next   ==

Jos van Geffen -- Home  |  Site Map  |  Contact Me
last modified: 6 March 2000