Highlights of Scotland
A walk in Glen Esk
On 10 August 1996 I visited with two friends Glen Esk, the glen where the river North Esk rises from Loch Lee, but that day the rain drove us out again. Two months later I returned with three colleagues and we could make the walk from the parking place at the end of the road to a small water fall, the Falls of Unich.

Click on the pictures for a larger version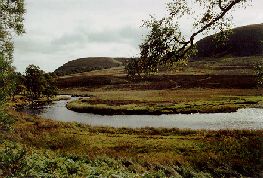 The river North Esk (which flows from right to left here), just after the parking place at the end of the road, near where the ruin of Invermark Castle stands.
After this points trees and bushes cease to grow and the glen is wonderfully barren and desolate.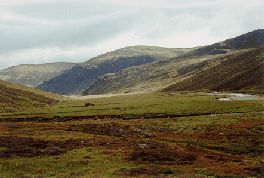 Looking backward into Glen Esk, with Loch Lee in the background.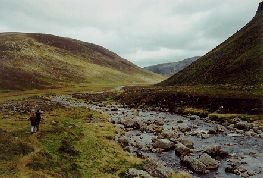 The water that has just left the Falls of Unich, on its way to Loch Lee; two of my colleagues walk to the left of the stream.
---

This map (17 kb) shows a red square where these three photos were taken; date: 5 October 1996.
Go (back) to: Main Scotland page # Stay in Dundee page # Scotland photo index
==   Previous  |  Picture Tour  |  Next   ==

Jos van Geffen -- Home  |  Site Map  |  Contact Me
last modified: 6 March 2000