Highlights of Scotland
Bealach-na-Ba
The road from Tornapress (on the A896, north of Kyle of Lochalsh) to Applecross is most dramatic, with steep gradients up to 20% and hairpin turns like those in the Alps. The road passes the infamous Bealach-na-Ba or 'Cattle Pass', at a height of 629 metres. At a hill stands a TV-tower and a walk of about 30 minutes along a not-too-bad path leads to it (a climb of 155 m), and from there one has spactacular views all around.

Click on the pictures for a larger version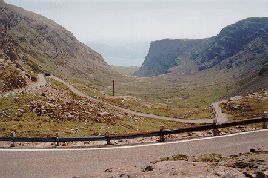 The road with hairpin turns leading to Bealach-na-Ba.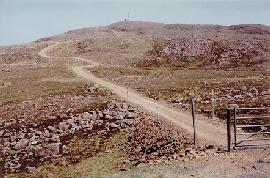 Sgurr Achaoracahin (774 m), with a path leading to a TV-tower.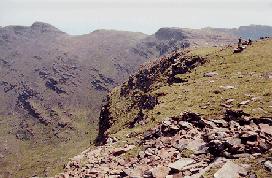 One of the views at the foot of the TV-tower, with some people at the top-right of the picture, showing the enormous scale of the view.
---

This map (17 kb) shows a red square where these three photos were taken; date: 30 May 1997.
Go (back) to: Main Scotland page # Stay in Dundee page # Scotland photo index
==   Previous  |  Picture Tour  |  Next   ==

Jos van Geffen -- Home  |  Site Map  |  Contact Me
last modified: 6 March 2000