Highlights of Scotland
Glen Nevis -- part 2
During a short holiday in September 1996 I made a trip from Dundee westward with my parents. From Dundee we went via Perth, Crieff and Crianlarich Tyndrum. There we took the A82 northward, passing through Rannoch Moor and into Glen Coe. We continued along the A82 to Fort William and into Glen Nevis where we made a walk along the road in Glen Nevis. After spending the night in Fort William, we returned the next day for a walk at the end of Glen Nevis; the photos below are taken during this walk.
We then returned along the A82 for a walk in Glen Coe.

Click on the pictures for a larger version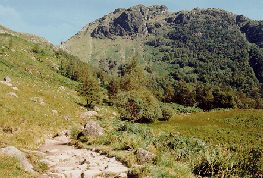 Beginning of the foot path at the end of the road.
The path continues on to Corrour Station, a railway station literally in the middle of nowhere: there is no road leading to that station!
We followed the path only to the foot of a small waterfall in the river Nevis, since the path is really too difficult for us to walk on.
It is a pity we turned back, because the path becomes a little better again further on, so I am told by Bob Pert (rabpert@clara.net).
The path also leads to the Steall waterfall (the links leads to a page with a nice picture of the waterfall and some other good pictures by Bob from Glen Nevis).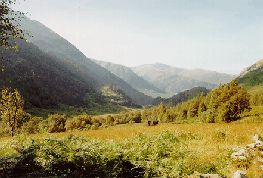 Photo taken backwards into Glen Nevis.

The river Nevis is quite small here.
---

This map (17 kb) shows with a red square where these three photos were taken; dates: 16 September 1996.
Go (back) to: Main Scotland page # Stay in Dundee page # Scotland photo index
==   Previous  |  Picture Tour  |  Next   ==

Jos van Geffen -- Home  |  Site Map  |  Contact Me
last modified: 6 March 2000