Highlights of Scotland
More Scottish castles: part 3
This is one of three pages with more Scottish castles; see also part 1 and part 2.
See the Scotland photo index for a list of the castle pictures on this site.

Click on the pictures for a larger version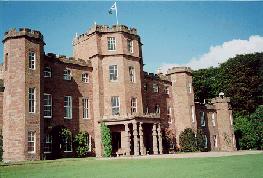 Fasque, north of Fettercairn, between Dundee and Aberdeen, was built in 1809 and bought in 1829 by Sir John Gladstone and is was the home of William Gladstone, who has been Prime Minister to Queen Victoria four times. Today the sixth generation of the family lives in the house. Part of the house is open to the public, and tourist can walk from downstairs, where little has changed, via a magnificent cantilever staircase, to the state rooms.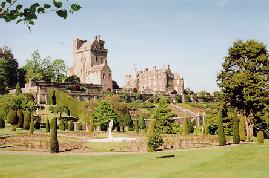 Drummond Castle, south of Crieff, has a keep built in the 15th century. The visitor, who can only enter the extraordinary garden, approaches the castle via a very long and beautiful dark avenue of trees. The symmetrical garden was laid out by John Drummond, second earl of Perth, in 1630. The central feature of the garden is St. Andrews cross, enriched by Italian marble statues.
For more information on the Clan Drummond and the castle's history,
please visit the Clan Drummond website.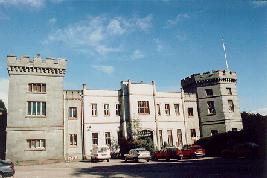 Kilmory Castle, in Lochgilphead, Argyll (between Glasgow and Oban), is in use by the local council and closed to the public. The garden, started in the 1770s, includes around 100 varieties of rhododendron.
---

This map (17 kb) shows with numbered red squares where these three photos were taken; dates: 10 August 1996, 28 May and 27 June 1997.

This castle page received the
StudyWeb Excellence Award
on 11 September 1999; see
their  "Architecture - Buildings
& Projects - Castles" section.

Go (back) to: Main Scotland page # Stay in Dundee page # Scotland photo index
==   Previous  |  Picture Tour  |  Next   ==

Jos van Geffen -- Home  |  Site Map  |  Contact Me
last modified: 12 February 2005