Sarah Brightman -- Concert in Rotterdam
3 December 2000

Sarah's La Luna World Tour -- after the release of her CD La Luna -- brought her past several places in Europe, one of which was in The Nethelands, in Rotterdam, on Sunday 3 December 2000.
I bought tickets for me and two friends: we had seats on row 22. This was not really close to the stage but all in all the seats were quite good: we could see the show rather well, though no details of faces and such without using a binocular.

The concert, lasting just 2 hours (including a break) was certainly great, in every respect, and we had a wonderful evening! The show was quite spectacular at times, with nice special effects: Sarah and two dancers flying in the air, fireworks, mist, confetti, etc. And every song had its own colours, set and effects, creating many different scenes, like short stories. In all of this, Sarah was supported by a four dancers, some backing vocals and an excellent orchestra, sitting left and right of a staircase on the stage. Sarah's choice of cloths, by the way, was very varied and, err ... interesting.

 
What followed below is my personal "review" of the concert.
===> The rogramme of the concert in detail
 
The first part started with the somewhat pompous song La Lune from the non-European version of La Luna, which formed a nice opening of the concert, setting the mood of the show with some spectacle. This was followed by Winter in July, a song that I am not fond of, and a good Scarborough Fair performance. Then came one of my favourites: Who wants to live forever, again performed really very well by Sarah, though unfortunately a little less impressive than in her "One night in Eden" concert I saw in 1999.
After that Sarah performed four songs from the La Luna CD. Sarah gave an excellent performance with Figlio Perduto -- another big favourite of mine. Also Hijo de la luna and La Luna were very good, all with a big moon in the back, against a beautiful background. And I must say that I liked La Califfa at the concert more than on the CD: it got something extra performed live.
Sarah then sang Pie Jesu solo, with a higer, younger-sounding voice: perhaps Sarah tries to mimic the voice she had when she sang this song for the first time (1985); the song is not one of my favourites. The first part then ended with Nessun Dorma: impressive, but again it sounded somewhat less convincing, less well than on the "One night in Eden" concert.
After a break of some 20 minutes, the concert continued with the music of Siren, while Sarah and two dancers went up in the air, which looked quite spectacular. Sarah then sang Whiter shade of pale, a song which I think does not really fit with her, and her version of the song is a little disappointing, though with the special effects nice to see.
Sarah was still flying through the air when she next performed Deliver me, a rather pop-like song, but nevertheless quite nice. This was followed by He doesn't see me, which do not find very special, but Sarah performed it well. Then came an all-English version of There for me, with Sarah in duet with one Josh Groban. Personally I prefer the English-Italian original on the Timeless CD, but this one was good too. And Josh Groban, who sang the duet with Sarah, really has a good voice.
Songs from "Phantom of the Opera" keep coming back on Sarah's concerts and I cannot blame her: they sound good, fit well with her and her voice, and give nice possibilities for a show. In Rotterdam she sang Twisted every way, followed by the impressive music of the Overture (with mist and masked people and candles) while Sarah again changed cloths, leading to a wonderful Wishing you were somehow here again.
Sarah then ended the main part of the concert with a solo-version of Time to say goodbye, which was disappointing: it did not work out very well this time, I have to say: Sarah's performance and singing was not so powerful then. Perhaps she was tired? Who knows. And I wonder why she did not ask Josh Groban to join her for a duet: he was around anyway and he has a good voice.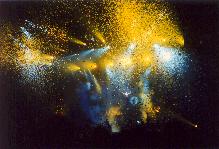 We were a wondeful audience, Sarah said, and so we got two encores. First she sang Question of honour, an older song which I had not heard live before, but which already appealed to me. And the concert version was certainly spectacular and wonderful, with confetti-showers, light- and sound-effects, two dancers and Sarah flying around again -- see the photo I took on the right, with Sarah in the spotlight. Whenever I listened to this song at home I imagined that Sarah was up in the air  ....  and now she did that for me  ....  wow.
The final song of the concert was Moon river, a very nice, heart-warming little song, sung quite well by Sarah, and it formed a fitting end of the concert.

 
So, all in all, I think the concert was a wonderful succes, a delight to hear and see. There where a few minor points -- not all songs were performed with Sarah's usual (full) potential -- but that did not spoil the whole concert: it was altogether very nice and worth seeing, and I certainly do not regret going.
At some moments, though, I wondered whether Sarah actually needs all the special effect. Her voice and way of singing is very powerful in itself, and in that respect the songs do often not need so much extras -- Sarah must be careful that the show does not overshadow her singing.
Another point that needs mentioning here is the following.
If you look at the full programme of the concert you will see that in Rotterdam Sarah skipped three songs: First of May, All I ask of you and Music of the night. Why did Sarah do this?? It is a pity she skipped these songs: I would have loved to hear them again!
 
      ===> About the video of the La Luna concert
---
For some backstage and concert pictures, see the picture gallery at the official Sarah Brightman Web Site.
I took a few photos myself during the concert, using an 800 ASA film and no flash, but that was no success at all (too far off, very big contrasts) -- the only photo that is acceptable is shown above, where Sarah sings "Question of Honour" while flying around.
===> Recensies in Nederlandse kranten (Dutch only)
<=== The La Luna tour page
<=== Tour 2000 -- Europe dates
 
The Rotterdam concert took place in Ahoy' and tickets costed 75 and 85 guilders (which is 34 and 39 euro, or about 30 and 34 US-dollar); there are only seats (no stands). We had seats 47, 48 and 49 on row 22 for 85 guilders (plus "service costs", as they euphemistically call that).
For a while a concert in Amsterdam was planned for 16 December 2000 but that concert has been cancelled. I did make a page about that concert and kept it "for the record".
 
<=== The Sarah Brightman main page  /  concerts page  /  CD index  /  lyrics index
or go directly to one of her CDs, concerts or videos on these pages:
<=== The main music and lyrics page

Jos van Geffen -- Home  |  Site Map  |  Contact Me
created: 9 October 2000
last modified: 11 January 2020