Sarah Brightman
At the end of 1989 I quite by accident found a wonderful CD:
The songs that got away
This CD, released in 1989, contains 14 songs that somehow "got lost" from West End or Broadway scores. These songs are perfomed by Sarah Brightman with a beautiful voice, which is in some songs (especially 1, 9 and 14) really enchanting and grand: her voice can match the angels' in its glory [from "Meadowlark"]. And the more I listen to the CD, the more I like it.
Up till now this still is my most often played CD!
It might be caught up with by an album of Loreena McKennitt, or Sarah's other wonderful CD Surrender, The unexpected songs, but I don't think so.



Contents
This CD is released by Really Useful Record Co. Ltd. in 1989, and it has as number: 839 116-2 (album: 839 116-1, cassette: 839 116-4).
Some of the songs have got a new orchestration for this CD, and perhaps the lyrics are adapted slightly as well here and there.
You can read the lyrics of the songs if you follow the links of the titles; all lyrics, except for those of song 4, are given in the CD-booklet.

JPEG version of cover (17 kb) GIF version of cover (109 kb)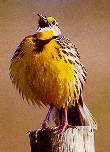 A jpeg picture of a meadowlark (81 kb) I found on Internet.
Comments
I love this CD since Sarah Brightman's voice is very, very good. All songs are different, so you here different aspects of Sarah's voice. I particularly like numbers of which I give the lyrics, where Sarah clearly excells. Listening to these songs, while sitting in a good chair with a good glass of wine ....

As usual, though, there are one or two songs on the CD that I am not so fond of. In this case I do not like number 7 ("Lud's wedding"): whenever I really sit down and listen to the CD I skip this song; maybe it is because a man sings Lud's part in the song. And number 10 ("What makes me love him") is not such a good song either. But one cannot blame Sarah for this, of course!
Anyting but lonely -- the single
A CD-single was released (in the UK at least) in 19?? that features two of the songs from The songs that got away, hence I mention it here.

(JPEG, 14kb)

Track list and links to the lyrics I have got:

1. ANYTHING BUT LONELY

Webber / Black, Hart - show: Aspects of Love, 1989.

2. ENGLISH GIRLS

Webber / Black, Hart - show: Aspects of Love, 1989.

3. HALF A MOMENT

Webber / Ayckbourn - show: Jeeves, 1975.

4. WHAT MAKES ME LOVE HIM

Bock / Harnick - show: The apple tree, 1966.

Song 1 appears on Sarah's albums The Andrew Lloyd Webber Collection (1997) and Sings the music of Andrew Lloyd Webber (1992).

Song 2 was previously unreleased and does not appear on an album.

Songs 3 and 4 appear on The songs that got away -- see above.

[With thanks to Gareth North for info and the cover picture and Elden and Becky for additional info.]
---
<=== The Sarah Brightman main page / CD index / lyrics index
or go directly to one of her CDs, concerts or videos on these pages:
<=== The main music and lyrics page

Jos van Geffen -- Home | Site Map | Contact Me
last modified: 11 January 2020