Sarah Brightman -- tour 1999
One night in Eden
Sarah's world tour, following the release of her CD Eden, brought her to many places around the world for concerts; further down the page are lists of tour dates.

Subjects related to this 1999 tour on these pages:

===> My "review" of Sarah's concert in The Hague in 1999

===> Programme of that concert

===> About the video of the 1999 concert

===> Concert video on American public TV (PBS) in June 1999


<=== The Sarah Brightman concerts page

===> Sarah's 2000 tour



---
Lists of 1999 tour dates I have found or heard of. It is likely that my list is incomplete, and I am not sure if all concerts really took place.
Sarah's 1999 tour is over and so these lists are not really necessary anymore, but I keep them "for the record".
South Africa
13 -- 20 March 1999
[4 concerts listed]
Europe:
37 March -- 30 May 1999
[36 concerts listed]
Canada and USA
03 June -- 17 Oct. 1999
[61 concerts listed]
followed by a tour through Asia (Japan, Taiwan, Korea, Singapore, Hong Kong) and Australia -- no dates available
---
On a website site in Germany I saw that the title of the tour is "One night in Eden", but according to the Fan Club the title is "Showtime". The first, however, is the right one.
This picture showing the concert dates in Denmark (62 kb in size) was sent to me by Berit Christensen, for which many thanks: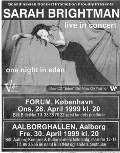 The following two pictures are on the German site I mentioned (8kb and 10kb in size); this type of pictures appears in the programme booklet of the concert: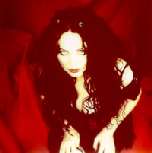 ---
<=== The Sarah Brightman main page / concerts page / CD index / lyrics index
or go directly to one of her CDs, concerts or videos on these pages:
<=== The main music and lyrics page

Jos van Geffen -- Home | Site Map | Contact Me
created: 12 December 1998
last modified: 11 January 2020