Number of HTML files at the end of 2000
The following table lists the main directory structure and the number of HTML files accessable to the public at the 31 December 2000 in these directories; in some cases I give a few subsets of a directory and the number of files therein. Links lead to the main page on that subject.

Below this table follow, as function of week number:

 
---
Weekly requests of my Web pages in 2000
Graph of the weekly requests of HTML files in 2000. All my Web pages were moved to another Web server on 7 February 2000 (week 6); the old server had a refering page until week 46.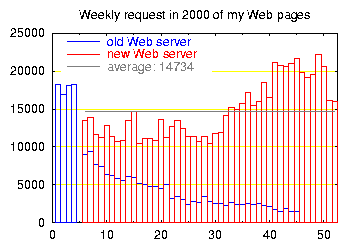 The following graph shows the number of HTML files at the end of each week in 2000.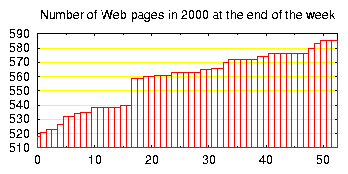 Notes:
Weeks always are Monday until Sunday.
Week 1 started with 3 January 2000 (with 518 pages);
week 26 started with 26 June 2000 (with 563 pages);
week 52 ended with 31 December 2000 (with 585 pages).
No data are available over week 5, the last week of the old server.
The new server started in week 6, on 7 February 2000.
Upon requests to the old server, visitors saw a page saying that my Web pages had moved; those requests were still logged until the server was finally closed down in week 46. Simply adding the two would be unfair, as visitors of the old site probably did move on to the new site and got to the same page there. Hence the results for the old server are given separately in the first graph.
---

Jos van Geffen -- Home  |  Site Map  |  Contact Me
created: 20 January 2001
last modified: 2 January 2002