Vicki Brown

Vicki Brown is a singer with a wonderful voice
who sings a great variety of songs,
but in all songs her voice is heard very well.
And, yes, I simply love to hear Vicki sing!!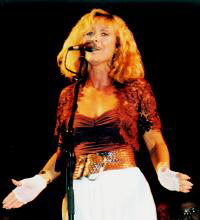 Vicki singing (22 kb)
photo by: Henk v.d. Reep

Vicki was born on 23 August 1940 as Victoria Mary Haseman in Liverpool, England.
Vicki began her career as an artist in very early 1960's as part of the Vernon's Girls. Later she formed the Breakaways, a very popular vocal backing group in England. She was a top session singer in England and sang on just about everyone's record.
In 1970 Vicki had a hit called Maybe I Know with her sister Mary Partington, under the name of the Seashells. And in 1973 she recorded a single with Stephanie De-Sykes under the name of the Tree People called It Happened On A Sunday Morning. She recorded with Love De-Luxe and Cerrone in the mid 1970's and recorded for Del Newman in Italy.
Vicki released her first solo album in 1977 in the UK only: From The Inside. That record was released by Power Exchange Records; she got the deal after singing vocals on JJ Barrie's number one hit No Charge (1976).
This was the start for Vicki successful career as solo artist, especially in The Netherlands, where she became a real big star. And that is how I got to know about her and got to love her singing.
Vicki married singer/musician Joe Brown and they got two childeran: daughter Sam and son Pete. Sam Brown has become a singer too. (And Sam Brown has two children, one is a daughter called Vicki ...)
Vicki's career sadly ended with her far too early death of cancer on 16 June 1991.

Thanks to Ken Mortimer for a lot of info that made it possible for me to compile the above brief biography. Thanks also to Tracy Daly and Henk v.d. Reep.
---

Below I list Vicki's records I know as CD; links lead to pages with a list of the songs on that CD, without further comments (the lyrics of one or two songs are given; have not had the time to write down other lyrics, unfortunately).

CD Albums


Before the above listed CDs, Vicki released at least one solo album: From the inside (1977), and she sang songs on albums of others. I have made a list of other songs by Vicki I have heard of, a list that is probably not complete.
Other recordings
Vicki also contributed songs to many other records, as mentioned above.
For example, I have the CD The Christmas Album (1989), a collection of Christmas songs sung by Vicki, Shezwae Powell and Gordon Neville, accompanied by the New London Chorale, and arranged & produced by Tom Parker, with whom Vicki worked a lot.



Vicki also featured as one of the soloists on a series of The Young ... created by Tom Parker, with The New London Chorale: The Young Messiah (1979; performed as a concert on TV in England in 1977), The Young Matthew Passion (1986) The Young Wolfgang Amadeus Mozart (1986), The Young Verdi (1988) and The Young Beethoven (1990).
I have recently bought The Young Matthew Passion and I must say I quite like it.


Craig Ciccone informed me that Vicki sang with Robert Palmer on Robert's first solo album "Sneakin' Sally Through the Alley" (1974), and Robert's second album "Pressure Drop" (1975) features Joe Brown.
Susanne Kolm wrote me that she has a video clip where Vicki sings the title song of the movie "Shanghai Surprise" (1986; directed by Jim Goddard) together with George Harrison (1943-2001), who wrote the original music for that movie with Michael Kamen.
The Internet Movie Database (IMDb) mentions Vicki's contribution on the page about the soundtrack. That site also mentions that Vicki played the part of "second nurse" in the rock-opera "Tommy" (1975) from The Who, and sang in the vocal chorus.
On the George Harrison discography at Wikipedia I found that on George's album "Gone Troppo" (1982) Joe and Vicki Brown sing backing vocals on the title song. For some more details on that album, see this page. I see no mentioning of "Shanghai Surprise" on these sites.


Many thanks to Ken Mortimer for info about records and songs I do not (yet) have.



---

Vicki Brown on the Web



There does not seem to be much about Vicki Brown on the Internet.
Here is a site I know of:

-- Vicki Brown in Wikipedia
-- page by Lucien Stam.
-- Memories of Vicki Brown on Facebook.
-- the unofficial Vicki Brown Web Site with an extensive description of Vicki's life and work
== website has unfortunately disappeared

Related Web sites:

-- Joe Brown's official Web site
-- Joe Brown at Wikipedia
-- Sam Brown (pictured on the right) at Wikipedia
-- The New London Chorale at Wikipedia
-- Violinist & composer Vicki Brown from Tucson, Arizona is another musician
Vicki Brown House
There is a Web site about the Vicki Brown-house in Den Bosch (The Netherlands), which is an open house, named after Vicki Brown, for people with cancer and their family -- the site is in Dutch. At the website of Joe Brown there was a page in English about the Vicki Brown-house, but I cannot find it anymore.
Vicki suffered years from cancer, but with her positive attitude she was a comfort and inspiration to a lot of people with cancer: she did the best she could to maintain her quality of life and talked openly on TV about her cancer.
---
<=== The main music and lyrics page

Jos van Geffen -- Home | Site Map | Contact Me
created: 12 February 1997
last modified: 21 August 2014