| | | |
| --- | --- | --- |
| | | Loreena McKennitt - Under A Winter's Moon |

In September 2022, Loreena announced in an email to the members list the release of a new album and a short seasonal tour.
Extracts from that email and from the official website:
Loreena performed and recorded a series of live seasonal concerts with special guests in December 2021. She's now releasing that magical concert as her 16th album, entitled Under A Winter's Moon - with a two-week companion TOUR of Ontario set to launch in early December.

The six-panel, two-disc digipak will be released Nov. 18, 2022 on her own label, Quinlan Road. The album features 15 seasonal songs performed live by Loreena, interspersed with seasonal readings by Canadian Indigenous actor and Companion of the Order of Canada, Tom Jackson, Gemini Award-winning actor Cedric Smith and Ojibway artist and flautist Jeffrey "Red" George.

"On a handful of winter's nights close to the solstice of December 2021, my musical friends and I wove this miscellany of music and spoken word," writes Loreena in the new album's liner notes. "#I sought to incorporate elements of the oral traditions found in many cultures - to capture, inspire and reconnect us with our past, while offering a reminder of the people of those times and what their manner of communication meant in their lives and might mean still." ~ Loreena

The album features such seasonal favourites as "Coventry Carol", "Good King Wenceslas" and the "Huron Carol". The first set begins with Jackson reading The Sky Woman Story, an Indigenous creation story. The whole second set embodies Smith's reading, in six parts, of A Child's Christmas in Wales, a moving and nostalgic piece of prose by the late Welsh poet Dylan Thomas, interspersed with some of Loreena's favourite carols.

This is also the first time Loreena has ever recorded the "Huron Carol". Also known as "'Twas in the Moon of Wintertime", it's the oldest known Canadian Christmas song. It was written in 1642 by Jean de Br?beuf, a Jesuit missionary at Sainte-Marie among the Hurons settlement. Br?beuf's lyrics were originally written in the native language of the Huron-Wendat Indigenous people.
Track list
Links lead to lyrics pages of the earlier released albums or to new lyrics pages.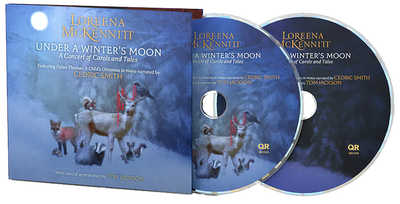 ---
<=== The Loreena McKennitt main page / CD index / lyrics index
or directly to one of her CDs or videos on these pages:
<=== The main music and lyrics page

Jos van Geffen -- Home | Site Map | Contact Me
created: 4 November 2022
last modified: 4 November 2022