Concert of Sarah Brightman
in Edinburgh -- photos
 
I have taken some photos of Sarah Brightman during the concert in the Playhouse Theatre, Edinburgh on 5 September 1997. For this I used a very sensitive (1600 ASA) film, so that using a flash would not be necessary (that doesn't work on such a large distance and -- moreover -- would be very disturbing for Sarah and for the audience). The photos are taken with an automatic camera with a zoom lens, 38--115 mm. Most of the photos are not so good, I think, because the lighting was not good enough for taking photos, but some of them turned out not too bad.

During the first part of the concert I sat on the fifth row to the right of the centre, and Sarah was standing to the left of the centre, but I had a pretty good view at her. Since some seats to the left were empty, I moved after the interval to the third row almost in front of Sarah, which gave me an even better view. Sketch:

           c h e s
  |    o r         t r a   |
  |           PB           |     PB = Paul Bateman, conductor
  |       SB               |     SB = Sarah Brightman
  |------------------------|
 ....~~~~~~~~~  ~~~~~~~~~....
 ....~~~~~~~~~  ~~~~~~~~~....
 ....~~~~2~~~~  ~~~~~~~~~....     1 = my seat in part 1
 ....~~~~~~~~~  ~~~~~~~~~....     2 = my seat in part 2
 ....~~~~~~~~~  ~~~~1~~~~....
 ....~~~~~~~~~  ~~~~~~~~~....
          ....  ....

Most photo taken during part one are not sharp because it was too dark around Sarah to take good pictures. Sarah herself was very light because she stood in the spotlight.
Here are two photos that are not too bad: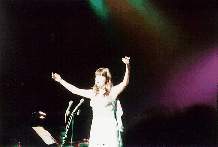 GIF (108kb)  /  JPEG (15kb)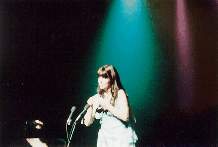 GIF (96kb)  /  JPEG (14kb)
During part two I sat closer to SB, so that I had less trouble from the lights shining on the stage. Sarah had changed clothes during the interval and appeared in a much darker (and moderner) dress, which made taking photos easier. Unfortunately, Sarah now used a microphone she had to hold very close to her mouth.
Here are three photos I took and that turned out quite well, I think: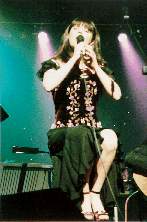 GIF (105kb)  /  JPEG (26kb)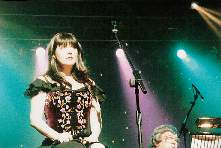 GIF (107kb)  /  JPEG (26kb)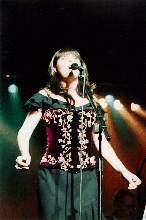 GIF (98kb)  /  JPEG (23kb)
Then Sarah changed clothes again and appeared in a rather light dress to sing the last numbers.
Here are two photos: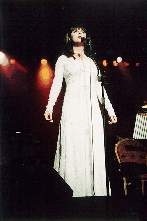 GIF (115kb)  /  JPEG (18kb)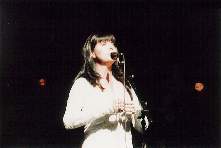 GIF (108kb)  /  JPEG (13kb)

 
===> The programme of the concert
Copyright
All these photos are taken by me personally and therefore I have copyright (© 1997).
Please don't use them without asking me first.
---
<=== The concert in Edinburgh page
<=== The Sarah Brightman main page  /  concerts page  /  CD index  /  lyrics index

Jos van Geffen -- Home  |  Site Map  |  Contact Me
created: 16 September 1997
last modified: 20 November 2003