Loreena McKennitt - Lost Souls Tour
Tour in 2018-2019

In October 2018, Loreena launches the first round of her Lost Souls tour with performances in South America, followed by a European tour in the Spring of 2019.
"The process of creating a new album doesn't feel complete until we get to share the music live with people," says Loreena. "It's like sitting down to a meal with friends, where the collective feeling of being together becomes so much larger and richer than its individual parts."

[Copied from Community Update email dd. 27 June 2018]

During the tour, Loreena will be accompanied by fellow musicians Brian Hughes on guitars, oud and Celtic bouzouki, Caroline Lavelle on cello, Hugh Marsh on violin, Dudley Philips on double bass and Robert Brian on drums.
Check the official website's tour page for the latest official announcements;
a full list of concerts can be found here.
Concert set list
The set list below on the left is as I heared it at the concert on 8 April 2019 in Eindhoven (see below for some remarks). This differs quite a bit from the "average set list" listed on the right, which I found early april on Setlist.fm, which was based on 9 concerts (including two from the European leg in March-April 2019).
[Links lead to song pages from the album versions, with lyrics and info.]
Eindhoven concert on 8 April 2019

Marco Polo (instrumental)

Intermission

Santiago (instrumental)
The Lark in the Clear Air (instrumental)
The Lady of Shalott (short version)

Encore

Tango to Evora (instrumental)

from Setlist.fm

Marco Polo (instrumental)
Santiago (instrumental)

Encore

Tango to Evora (instrumental)
---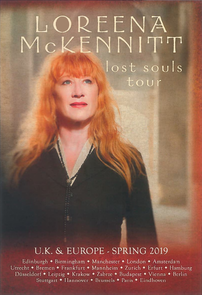 Remarks on the concert
I have attended the concert on 8 April 2019 in Eindhoven (The Netherlands), the last in the Spring 2019 leg of the tour.

All in all a wonderful concert and I'm really glad I was able to be there! And it was a very pleasant surprise to hear the song The Two Trees, one of my real favourites in Loreena's collection.

But unfortunately, as is the case with most (all?) concerts, it is almost impossible to actually understand what the singer is singing. Often the music is too loud compared to the singing, and at the concert more instruments (drums, electric guitars, ...) are used than on the recording, drowing the voice. Even though the acoustics of the concert hall is great, the lyrics are then difficult to follow. And particularly in Loreena's case the lyrics are often very special: missing out on the lyrics thus means missing out on some of the special atmosphere surrounding her songs.


Loreena requested the audience not to take pictures during the concert, because that would disturb the performes and others in the audience, and I must say that in Eindhoven this was quite well respected. To compensate, Loreena allowed people to take pictures during the performance of the instrumental number Santiago (third song after the intermission). Some results of my attempts to take pictures are shown below.




---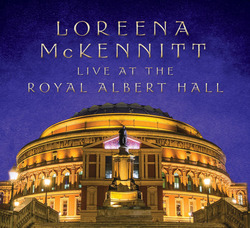 Concert album
An email from the Loreena McKennitt Community dated 1 May 2019 says (the pictures shown here are taken from that email):
New recording coming out this fall

Loreena McKennitt Live at The Royal Albert Hall

Hot on the heels of a busy spring and summer touring schedule, Loreena is poised to release a live recording of her celebrated March 13th performance at the prestigious and historic Royal Albert Hall.

The new recording, to be released this fall, is a two-disc package featuring 20 songs. It provides a substantially different collection of live songs from any of her previous live album releases. It also includes seven songs that have never been released as live tracks, six of which are from her latest album, Lost Souls. They include, 'A Hundred Wishes', 'Ages Past, Ages Hence', 'Spanish Guitars and Night Plazas', 'The Ballad of the Fox Hunter', 'Manx Ayre', and the title track 'Lost Souls'.

Live at the Royal Albert Hall will be released to coincide with Loreena's 2019 tour dates in Ontario and Québec and will be available via the Loreena McKennitt online store and selected retailers worldwide. Full details to be announced later in 2019.

The performance at London's Royal Albert Hall was part of Loreena's spring tour. She'd performed there 26 years earlier, opening for British musician-composer Mike Oldfield, but this time she was the main act and to celebrate the occasion she brought in five special guest musicians to join her.

"The audience was ecstatic," wrote Liz Thomson for The Arts Desk, a British arts journalism website. Reviewing the concert, she described McKennitt's music as "Celtic yet also Arabic, the modalities and metrics of each music perhaps more similar than is at first apparent...World Music indeed - but music which shows that the world is indeed small and that there is, as always, more that links us than sets us apart."

Joining her for the Royal Albert performance was renowned Egyptian percussionist Hossam Ramzy, Daniel Casares, of Spain (one of the top flamenco guitarists in the world), and Canadians Ben Grossman on hurdy-gurdy, bodhran, accordion and percussion, and Ian Harper on Uilleann pipes, bombard, the Turkish clarinet, flutes and whistles. Spanish musician Ana Alcaide played nyckelharpa.

"It was a fabulous night," says Loreena. "It was exhilarating to have these five special guests and to perform together in such a prestigious, historic venue as The Royal Albert."

The Lost Souls Tour kicked off in the artist's home base of Stratford, Canada in September 2018, followed by performances in Brazil, Argentina and Chile. This spring, she embarked on a 25-concert, 10-country European spring tour, to be followed by a 24-concert, 6-country summer European tour, which when combined will have seen her perform for more than 100,000 people.
---
<=== Lost Souls Tour 2018-2019: tour page / tour dates
<=== The Loreena McKennitt main page / CD index / lyrics index

Jos van Geffen -- Home | Site Map | Contact Me
created: 9 June 2018
last modified: 2 May 2019