During July 2010 to January 2011 I took part as a volunteer in the project "Cool! Climate after School" of Stichting Collusie. For this project I visited as a guest teacher groups of 8-12 year old children in after-school care centres.


The project intends to make children aware of conserving energy, pointing out that the mostly used energy sources -- coal, oil, gas -- will not be available indefinitely, and that it is therefore necessary is both to save on energy usage and to switch to sustainable energy sources -- sun, wind, water. Since the "lessons" are part of the after-school care, they are is of course not too heavy and presented in a playfull way: the children have to enjoy it.
After a short introduction about this, the group of 10 to 12 children is split up in four groups. Each group builds a car with an engine powered by sunlight, and they can then play with the car for a few minutes, with a race to see which of the four different cars is fastest.
At the end of the "lesson" the children each get an "energy saving box", with some energy and water saving items and a booklet with which they can be a "climate detective": question and observe parents or relatives to see whether they are aware of energy saving. And by sending in the completed booklet the children can win a "cool" prize (e.g. a solar-powered torch, a water-powered alarm-clock).
Outside of the "Cool! Climate after School" project I gave on my own accord the same lesson except for the last part (i.e. handing out the "energy saving box", the part for which the project had several grants) on a primary school - namely for the group five children of the school of my niece. The children (8-9 year old) came in 15 groups of eight or nine children.
Personally I found this activity rather rewarding: it was nice to see the children so gripped by energy saving and solar power. And for me it was a nice way to aquire some experience with education.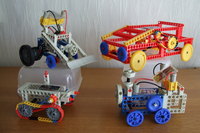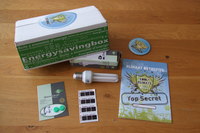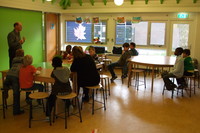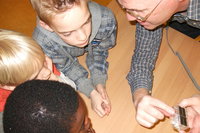 The solar-powered cars, the energy saving box, and the introduction.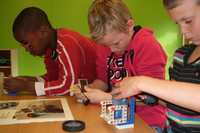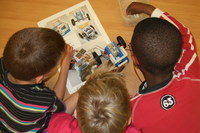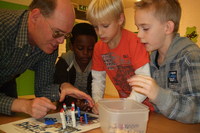 Building the solar-powered cars, and racing with them, using a lamp.
(Photos of the lesson taken by an after-school care employee in Den Bosch, 26 Oct. 2010.)
---
There are a few guest teachers giving lessons for "Cool! Climate after School", a project of Stichting Collusie, financed by grants from the Dutch government, provinces and towns.

Links

The solar-powered model cars are built from Gigo Solar Vehicles material (#1114, #1121, #7340):
---

Jos van Geffen -- Home | Site Map | Contact Me
created: 30 September 2010
last modified: 16 February 2011