Pop lolitas like Christine Aguilera and Tatu can get away with it but when a "serious" older singer like Sarah Brightman shows big hair, cleavage and legs, the critics are not amused.
Worse, they accuse Brightman of using sex appeal to sell her latest album.
"I really don't calculate what I do," the 42-year old tells Life! on the phone from Taiwan, "but I do enjoy taking things from different places and fusing them together."
Certainly, the singer from Berkhampstead, Britain, has detoured quite a bit from what the public knows her by: a star of blockbuster West End musicals like Cats and former wife of award-winning composer Andrew Lloyd Webber.
Harem, the title of her sixth release, is a sensual collection of Middle Eastern odes, accompanied by a peek-a-boo publicity photos which suggest that Brightman has taken a leaf out of Kylie Minogue's playbook.
"It's always my passion to create something of my own. I've always been a visual person," she says in a crisp British accent, "and I think women my age really start to blossom".
Ironically, her speaking voice bears the youth and smallness of a 12-year-old's.
No matter, for her track record is certainly not inconsequential. Before wowing West End, she was a teenage dancer on the BBC's Top Of The Pops show, and was later part of the 1970s girl-group Hot Gossip. They had one strangely titled hit called I fell In Love With A Starship Trooper in 1978.
After star-making turns as Jemima and Christine in the phenomenally successful musicals Cats and The Phantom Of The Opera respectively during the 1980s, she leapt from the stage to the charts.
Five albums later, including the lauded Time To Say Goodbye - her duet with Andrea Bocelli - Eden and La Luna, Brightman has sold more than 15 million copies worldwide.
So it is understandable that she feels confident enough to stray into new territory.
She explains the title of her latest release: "Harem means 'forbidden place' in Arabic. I've been travelling a lot and reading a lot of Arabic literature, which was translated into English. That's influenced me tremendously."
Brightman, who once famously referred to her voice as The Great Gift, has no intentions of passing on her soprano genes, yet.
It is no secret that her six-year-old marriage to Lloyd Webber failed in 1990 because he wanted babies while she wanted to tour and record, then tour some more.
These days, her partner is German produces Frank Peterson, 41, her boyfriend for the past 11 years.
"Maybe the Gift is enough to keep giving," she says softly after an uncomfortable pause, when the subject of children is brought up.
"But I have no plans for kids definitely at this stage." Not especially when she embarks on a world tour later this year.
While she confesses to lapsing into bouts of perfectionism - "I can never be 100 per cent happy with an album" - she assures that she is no difficult diva.
"Diva, hmm," she wonders aloud. "I don't quite know what it means but I hope it's not negative. I'm very peace-loving. In fact, I'll be the first to run away at the first sign of trouble."
Flee from trouble? Surely a classical-pop superstar like herself - whose crossover blueprint has spawned the careers of people like Charlotte Church and Filippa Giordano - has always been guided by the best managers?
"The advice people gave me has always been the wrong advice," she counters. "For a true measure of success, everything has to come from yourself."
Which is where her new soprano-and-sex appeal comes in nicely then.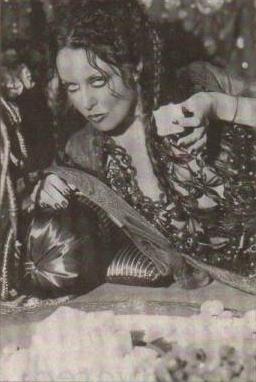 SIZZLING SARAH: Peek-a-boo look for Birghtman's new album Harem.
---
My comment:
The article says Harem is Sarah sixth release. The author is quite wrong here! Depending on what you count as album, Harem is the 15-th album full of songs sung by Sarah.
Other than that, the article is not very inspiring or informative, just nice page-filling material for a newspaper.
The article's (implied) criticism on Sarah's peculiar chose of clothes is something I share, by the way.