Monitoring the composition of the Earth's atmosphere
Scientist satellite remote sensing at BIRA

On 1 June 2004 I started on a post-doc. job at the Belgium Institute of Space Aeronomy (BIRA-IASB). The research I do here is a kind of follow-up of the post-doc. work I did at the Royal Netherlands Meteorological Insitute (KMNI) in 1999-2004, but then focussing on slightly different aspects.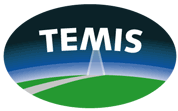 The first part of the work is within the TEMIS project, for which I already worked at KMNI -- see that page for some details.
The idea was to set up a warning system of volcano eruptions based on the detection of sulphur dioxide (SO2) emissions from satellite measurements. This warning service will than work in near-real-time, of course, to provide information to e.g. the Volcanic Ash Advisory Centres (VAACs).
During the first two years working at BIRA, however, most of my time was not spent on the SO2 related work, but on helping to develop and test programs for the retrieval of atmospheric species from satellite measurement within the framework of other (more pressing) projects.

Some work on the service of detection SO2 emissions related to volcanic eruptions was done during that time, but it really took off in 2006. The service is operated on a number of selected regions around volcanoes known to have erupted since 1800.
===> Sulphur dioxide from volcanic emissions page at the TEMIS website.
At the same time anthropogenic SO2 emissions, i.e. air pollution, are monitored in a number of selected regions covering industrialised areas.


The activity related to anthropogenic emissions was also part of Stage 1 of the PROMOTE project, (end 2004 to begin 2006), in the section "Air Quality". Within Stage 2 of PROMOTE (2006-2009), the SO2 data was part of the Air Aquality Record Service.


Monitoring the SO2 emissions related to volcanic eruptions and the alert service that issues e-mail notifications of exceptional SO2 concentrations is named the Support to Aviation Control Service (SACS). This services is primarily directed to support the VAACs, mentioned above, but anyone interested, such as volcanological observatories, public safety organisations, etc.
These activities, started under TEMIS as mentioned above, were continued and extended during Stage 2 of PROMOTE (2006-2009), and will be further continued as a separate project (2009-2012). The monitoring and alert service works in near-real time, with ann archive for case studies, validations and long-term records. Data used is based on measurements of the SCIAMACHY, OMI, GOME-2 and IASI instruments.
===> SACS home page

Additionally I made smaller contribution to various other projects (notably: AMFIC, NOVAC, GlobVolcano), e.g. by providing special data sets, performing dedicated data analysis, etc.
End of contract and follow-up
My stay at BIRA-IASB ended in November 2009, with the final meetings of the
two major projects I worked for mentioned above: TEMIS and PROMOTE.
On 1 June 2011 I returned to KNMI.

---
===> list of my publications about my post-doc. positions in atmospheric research.
See a separate page for the meaning of some acronyms.

Place of work

Belgian Institute for Space Aeronomy (BIRA-IASB)
Ringlaan 3 (or: Avenue Circulaire 3)
B-1180 Brussels (Uccle)
Belgium

Note on the institute's abbreviation

BIRA is the Dutch version (Belgisch Instituut voor Ruimte-Aëronomie)
IASB is the Frens version (Institut d'Aéronomy Spatiale de Belgique)
By the way:
Both the TEMIS and the PROJECT projects, as well as most of the other projects I was involved in, are funded by the European Space Agency (ESA). Other projectes were financed by the EU or EUMETSAT.
---

Jos van Geffen -- Home | Site Map | Contact Me
created: 11 July 2004
last modified: 30 June 2011